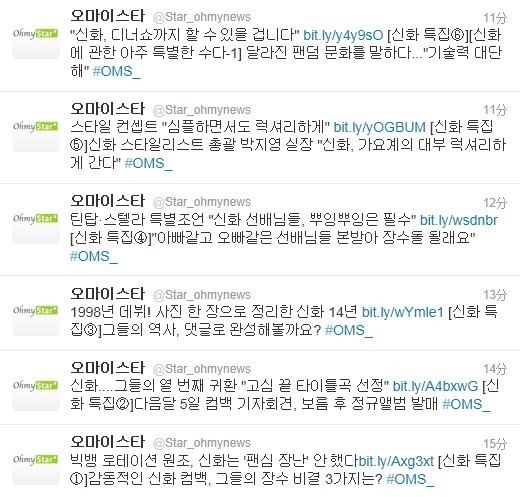 1. BigBang rotation pioneers, Shinhwa do not play "pranks" on fans, Shinhwa comeback that touches the heart of many, their 3 longevity secret?
2. Shinhwa... Their 10th return "selected the title song painstakingly" comeback press conference on the 5th next month, album release a fornight later.
3. Debuted in 1998! Using a picture that will summarise Shinhwa's 14 years. Completing their history with comments?
4. Teen Top, Stellar special guidance, " Shinhwa sunbaenim bbuing bbuing is a must" We want to be like Sunbaenims who are like father and brother to us, and become the longest running group.
5. Style and Concept "Simple yet luxurious" Shinhwa's stylist Park Ji Young explains "Shinhwa Shinhwa, godfathers of the K-pop scene, concept of luxury."
6. Shinhwa might be holding "dinner show" [Shinhwa special highlights - 1] Talking about the changing art culture, sports and literature.. "Technology is superb"
7. The memories of wanting to pick up the things that oppa threw away [Shinhwa special highlights - 2] Spending 14 years loving Shinhwa.
8. "Shinhwa, never once disband, why write reunion?" [Shinhwa special highlights - 3] News reports "wrong concept"
9. In this world, who love "Shinhwa" most? Which is why i created <Oh My Star> weekend special edition
cr: 猫猫的彗星@神话吧 + @Star_ohmynews