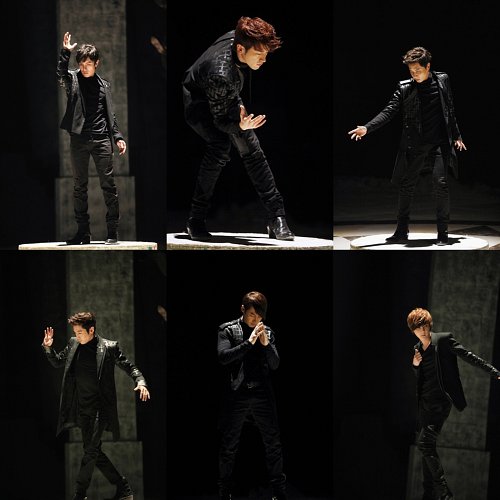 In the current music industry of Korea, idols are the spindle forces, whether you like it or not, it is an undeniable fact. Male or female idol groups not only influences the audio sources in the country, even discography, performances market, have become the central pillar of the KPOP craze that is being spread to the world.
During this period, idol groups that are a little different from the rest have returned to fans. Looking at the ages of the members, who are all in their thirties, it is difficult to group them into the category of the "common" idol groups. However they have been an idol group since 14 years ago, hence, it is not so strange to be tagging the term "idol group" to their group name. Shinhwa' Eric, Lee Min Woo, Shin Hye Sung, Kim Dong Wan, JunJin and Andy. Of course, the title "longevity" has been with them.
Debuting in March 1998, Shinhwa, a 6 member idol group will be holding their comeback concert after 4 years hiatus on March 24 and 25, in one of Seoul's largest indoor venue, Olympic Gymnastic Arena, resuming their activities. Shinhwa members had to temporarily leave the fans for 4 years due to military service.
In a world where idol groups bloom quickly, Shinhwa occupies a unique position, as they are the country's longevity idol group that is welcoming their 14th anniversary this year. Not only have they never replace any members, they also have experiences of occupying the peak of the music industry.
Now, every step of Shinhwa will be the beginning in the music industry, beyond the idol world, . Because till now, there isnt an idol group that has exist longer than Shinhwa, and this is also the reason why every move of Shinhwa will raise attention in the music industry.
Although in many areas, Shinhwa is under the spotlight, there are also parts that cannot be overlook, and that is music industry's consensus, in other words saying, not emphasising on "selling" the memories of the glory and popularity.
In today's music industry, when popular singers or idol groups of the 80s and 90s make a comeback, most of them are more dependant on their reputation gained in the past, rather than keeping up with the current trends and making positive transformations. This is an indisputable fact. Of course, the result is obvious, well received by the few adoring fans that are left, not attracting the attention of the public.
This is also in line with the situation of Shinhwa. Hence Shinhwa have to produce songs that are acceptable by the major consumers groups of today- the 10s and 20s and to have "ing-type" of activities. This is the only way that should be done.
In any case, the prospects are very bright.
Shinhwa members not only have high awareness in the past 14 years, the music and performing skills are also growing with them, and they will be attempting a new concept for the comeback 10th album that will be releasing soon.
Lee Min Woo's capability of writing lyrics, composing and producing and Eric's excellent skills of rap making. Members like Shin Hye Sung, Kim Dong Wan, Andy have also released before solo albums. All these broaden the music spectrum even more.
With Shinhwa's potential as foundation, the 10th album title track "Venus" is of electronica genre, a genre that has never been challenged before.
Electronica is a popular trend in the world of music. "Venus" will be using the melody composed by a foreign composer and Lee Min Woo will be writing the lyrics to the song.
Yoon Il Sang, Lee Hyori's "10 Minute" composer - Kim Do Hyun, Jung Jae Yoon from Solid, Andrew Jackson who have with Aziatix, Britney Spears and Leona Lewis and more have participated in Shinhwa's 10th album.
Shinhwa spent more than 2 billion won in the mv production of "Venus", putting in lots of efforts for fans. The comeback performance can once again confirm the potential and development of Shinhwa, and this becomes an important moment.
In the past 14 years, Shinhwa held concerts, more than any groups at home and abroad. The members have once said, they seem to be more comfortable once they are on stage.
Shinhwa's performances are different from the other idol groups, not being bounded by a fixed frame, very carefree. There can be countless impromptu stages when the members are hyped, an orignially scheduled 2 hours performance can be extended to more than 4 hours. This is why Shinhwa is often evaluated as "a group that shines even more during concerts". Hence, Shinhwa's comeback concert will be anticipated even more.
Recently attracting the attention of many in every aspect, every step they walk in the future will become the first step in the music industry. They have to proceed now, not only for the musicality development in the near future, but also for the junior idol groups.
source: star mk realtime