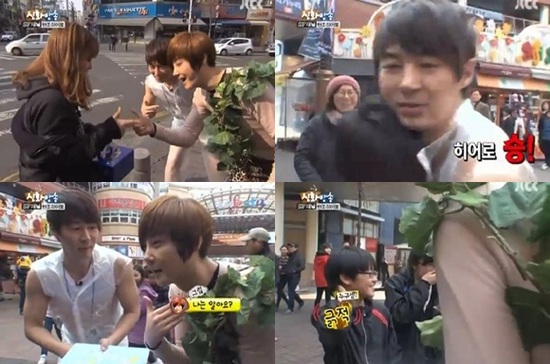 Shinhwa member Shin Hye Sung faces humiliation from the public as he is not being recognised, bringing about laughter.
JTBC variety show "Shinhwa Broadcast was broadcast on the 17th. The theme was "SF Channel" where the members transformed into heros to recuse the president daughter who was kidnapped.
During the show, Shin Hye Sung faced humiliation while playing games with the citizens as the citizen could not recognise him, causing laughter to many.
In order to recuse the president's daughter, the members had a mission where they had to play games with the citizens and had to win for 10 times.
JunJin transformed into invisible man and Hyesung into Tarzan. During the mission, they played games with a little boy. JunJin and HyeSung asked the little boy "Do you know who are we?" The little boy shook his head saying "I dont know", bringing laughter to many. The little girl beside answered "I recognise JunJin". As for Hyesung, she answered "I dont know who is he" resulting in Hyesung facing humiliation.
source: osen